Aracaceae: Diagnostic Characters, Phylogeny, Economical Importance, Classification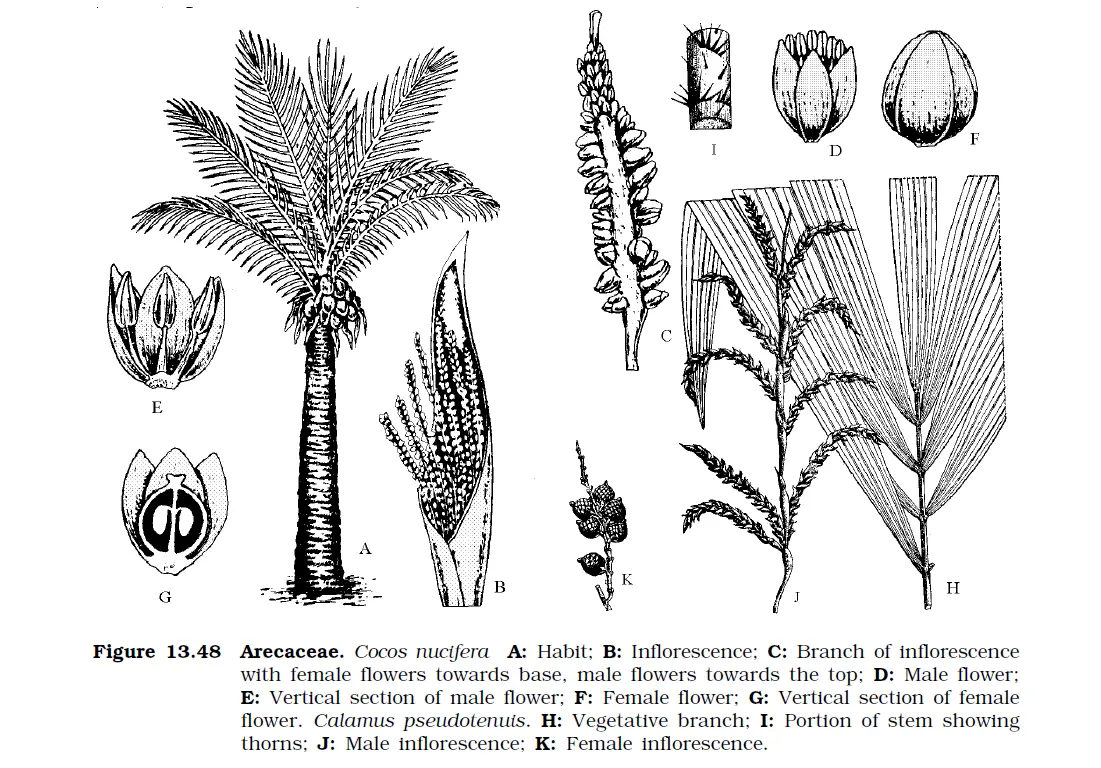 This post delves into the fascinating world of Aracaceae, covering everything from their diagnostic characters and phylogeny to their economic importance and classification. Whether you're a botanist, student, or simply interested in learning more about this diverse family of plants, this article has something for everyone. Discover the unique features that make Aracaceae so special and understand their significance in the wider world.
Diagnostic Characters of Aracaceae:
Woody unbranched shrubs or trees.
Stem arborescent with scars of fallen leaves.
Large, fan-shaped or pinnately compound with sheathing bases.
Inflorescence Paniculate.
Spathes are often present.
Flowers small.
Perianth Thik green Calyx-like.
Fruit is drupaceous with fibrous mesocarp, and hard endocarp.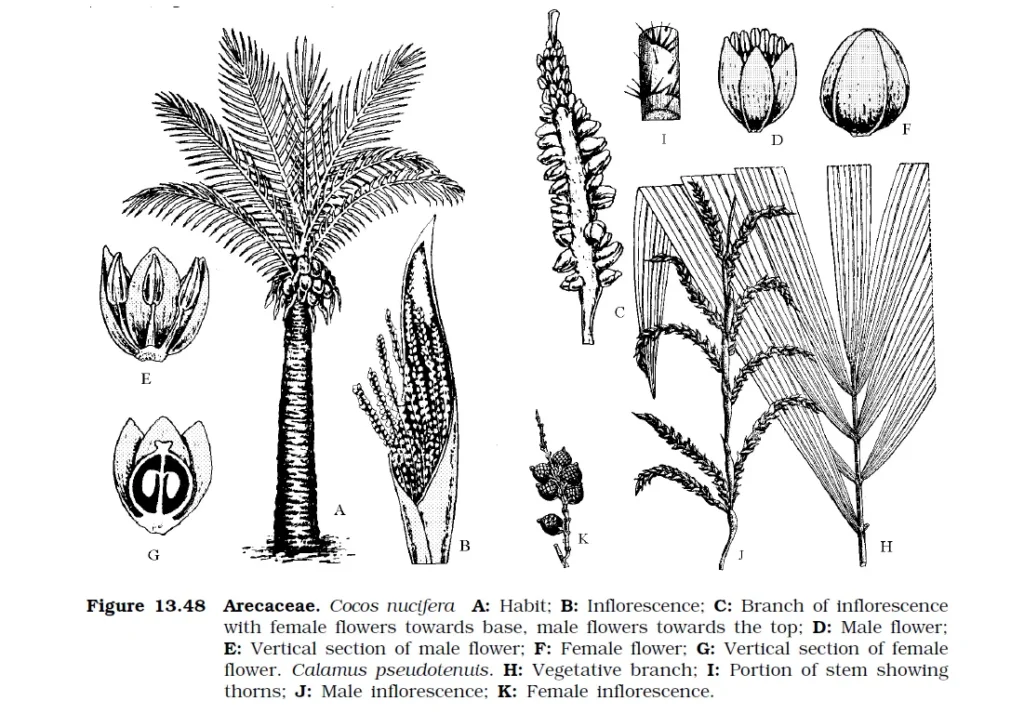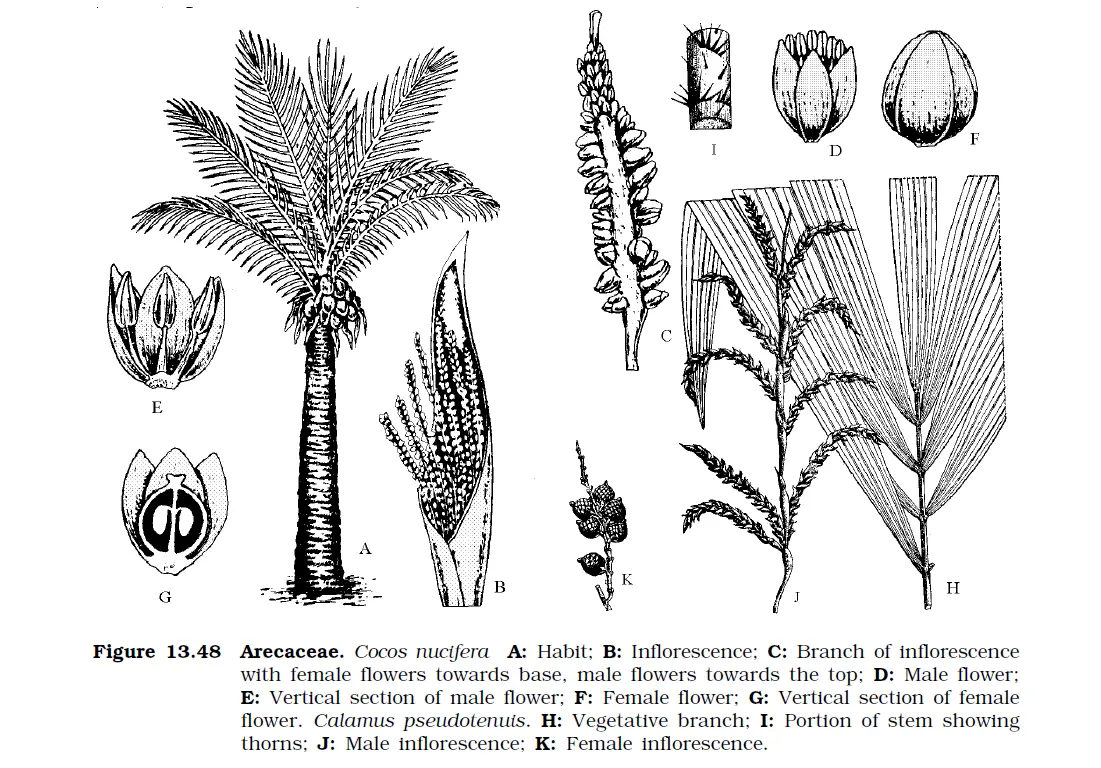 Economic importance of Aracaceae:
Coconut Palm – A Multi-Functional Tree: The coconut palm (Cocos nucifera) is a versatile tree that provides a variety of useful products. Almost every part of the tree is put to use, including the mesocarp of the fruit which is the source of coir fibre and the seed endosperm (copra) which yields coconut oil.
Palm Oil: A Valuable Resource: Elaeis guineensis is a species of palm tree that is cultivated for its fruit, which is high in oil content. Palm oil is an important ingredient in many food products and is also used in the manufacture of cosmetics, soaps, and biofuels.
Sago Palm – A Major Source of Carbohydrate: Metroxylon sagu, as well as some species of Arenga and Caryota, are sources of sago, a starchy carbohydrate that is used as a food staple in many parts of the world.
Palm Wine – A Traditional Drink: Borassus and Caryota are two species of palm trees that are tapped for their sap to produce palm wine, also known as toddy. It is a traditional drink in many cultures and has both cultural and economic significance.
Ornamental Palms – Adding Beauty to Landscapes: The palm family also includes many ornamental species, such as Roystonea regia, Caryota, Livistona, and Sabal, that are used for shade and decoration purposes in landscaping.
Palms – A Source of Fibre: Many species of palms, particularly those belonging to Raphia, Caryota, and Leopoldinia, are a source of fibre that is used in a variety of industries, including textiles, paper, and rope production.
Dates – A Delicious Fruit: The Date palm (Phoenix dactylifera) is a species of palm tree that produces a delicious fruit that is high in nutritional value. Dates are a popular food item and are also used in the manufacture of various products.
Vegetable Ivory – A Sustainable Alternative: The ivory nut palm (Phytelephas macrocarpa) produces seeds that are used to create vegetable ivory, which can be used as a sustainable alternative to real ivory in the manufacture of buttons and other items.
Palm Waxes – A Valuable Resource: The palm family includes several species, such as Copernicia and Ceroxylon, that are used to produce waxes that have a variety of industrial applications, including in the manufacture of candles and polishes.
Betel Nut – A Traditional Stimulant: Areca catechu is a species of palm tree that produces betel nuts, which are a traditional stimulant that is chewed in many cultures in Africa and Southeast Asia. The nut has both cultural and economic significance.
Palms – A Source of Commercial Cane: Various species of Calamus are used as a source of commercial cane, which is used in the production of furniture and polo sticks.
Phylogeny of Aracaceae:
Molecular studies have shown that the palm family is closely related to the grass family (Poaceae) and the sedges (Cyperaceae).
The subfamily Arecoideae is the most diverse and widespread subfamily of the palm family and includes economically important genera such as Areca, Cocos, and Elaeis.
The subfamily Coryphoideae is also economically important and includes the genus Phoenix, which produces the date fruit.
Despite the morphological diversity within the palm family, there are some key characteristics that unite all members, such as the presence of a single terminal bud, large compound leaves, and the absence of secondary growth (i.e. no increase in stem diameter over time).
More recent studies by Asmussen et al. (2000) support this relationship and indicate that Nypoideae + Calamoideae + the rest of the family form a basal trichotomy.
However, the details of the relationships of Nypoideae and Calamoideae to the rest of the family are unclear, and some morphological groupings are not supported by molecular data (Hahn 2002).
Classification of Aracaceae:
Classification of Aracaceae according to APG IV :
Kingdom: Plantae
Clade: Tracheophytes
Clade: Angiosperms
Clade: Monocots
Clade: Commelinids
Order: Arecales
Family: Arecaceae
Classification of Aracaceae according to Bentham and Hooker :
Kingdom: Plantae
Division: Phanerogams
Subdivision: Angiosperms
Class: Monocotyledones
Series: Calycinae
Family: Arecaceae (Palmae: old and Conserved )
You will also like :
If you want important notes and updates about exams on your mobile then you can join SACHIN'SBIOLOGY on Instagram or Facebook and can directly talk to the founder of Sachin's Biology and Author of biologywala.com Mr Sachin Chavan M.Sc. NET JRF (AIR 21) GATE SET.