BSI Research Associate Fellowship Programme 2023: A Comprehensive Guide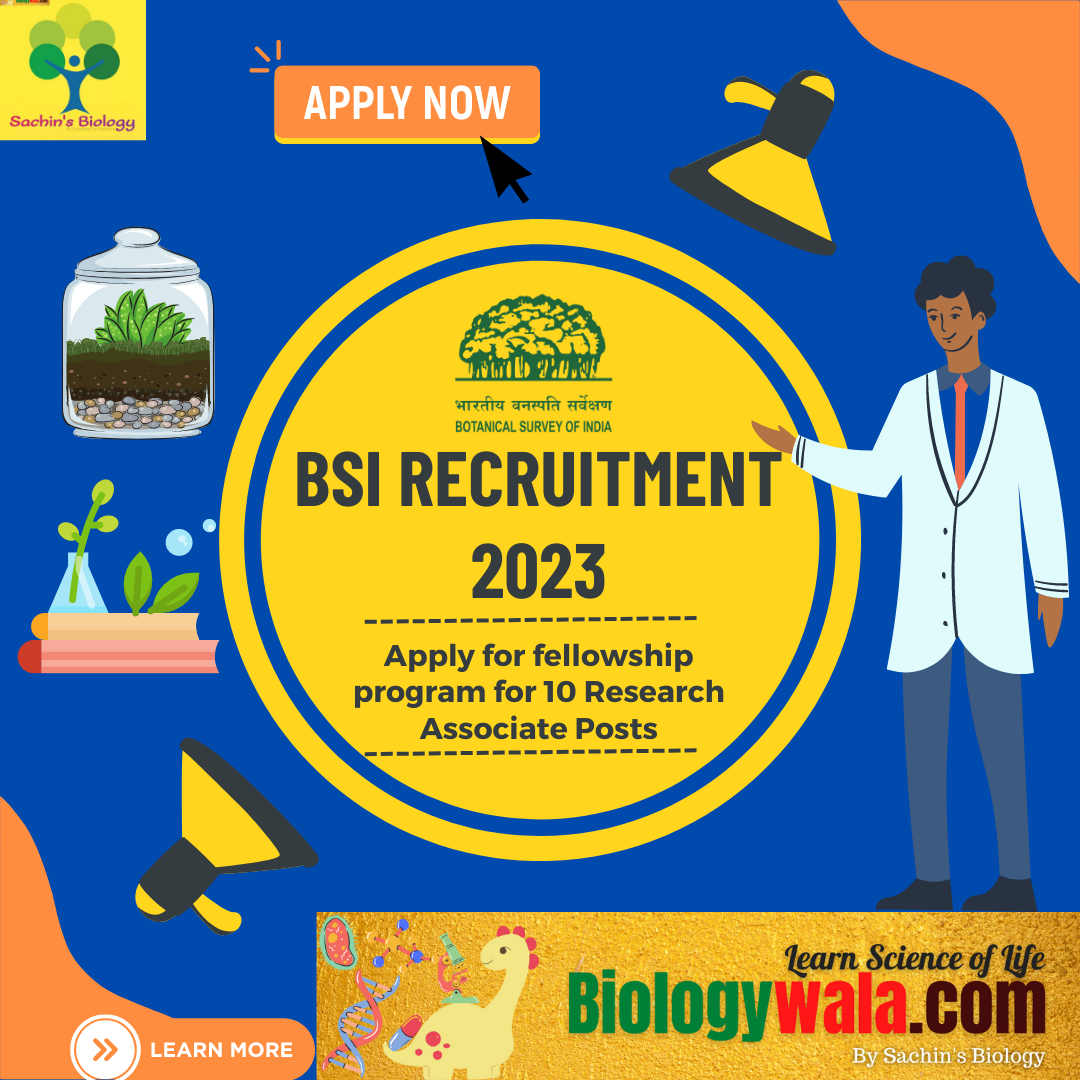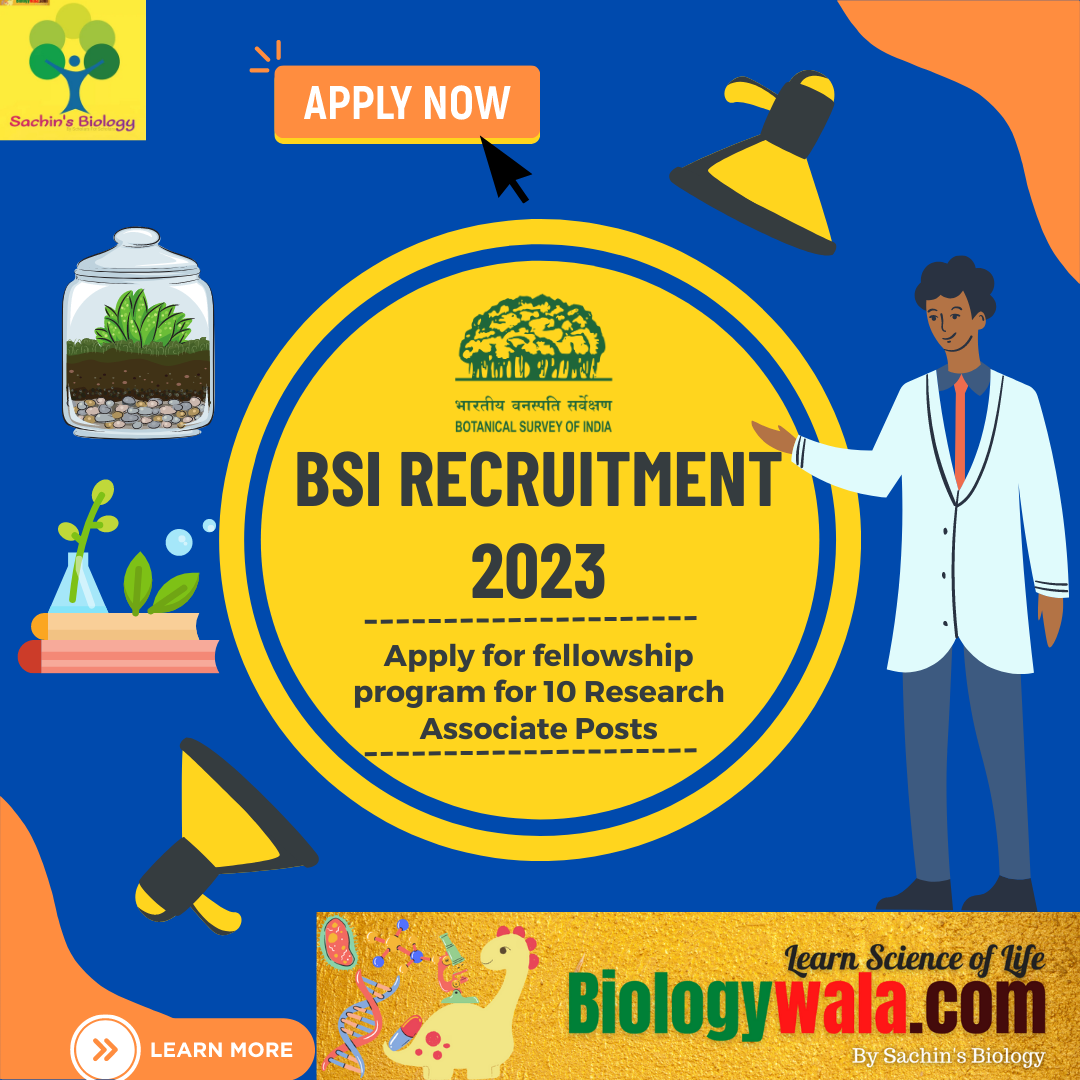 BSI Research Associate Fellowship Programme 2023: A Comprehensive Guide
Introduction:
The Botanical Survey of India (BSI) is a premier scientific organization under the Ministry of Environment, Forest and Climate Change, Government of India. It carries out extensive field surveys, taxonomic studies, and documentation of plant species, as well as studies on plant ecology, genetics, and evolution.
Applications Invited by Botanical Survey Of India for the BSI Research Associate Fellowship Programme 2023. Interested and eligible candidates can check out the details below:
| | |
| --- | --- |
| Name of the Organization | Botanical Survey Of India |
| Post Name | Research Associate |
| No. of Posts | 10 |
| Start date of application | 6th April 2023 |
| Last date of application | 5th May 2023 |
| Mode of application | OFFLINE |
| Fellowship amount |  Rs. 47,000 – 54,000/- Per Month |
| Job location | All India |
| Official website | bsi.gov.in |
BSI Research Associate Fellowship Programme 2023
The Application deadline for BSI Research Associate Fellowship Programme 2023 is 5th May 2023
What is the BSI Research Associate Fellowship Programme?
The BSI Research Associate Fellowship Programme is a prestigious opportunity offered by the BSI for researchers with expertise in botany and related fields. This program provide funding and resources for researchers to conduct research in the area of Plant Systematics/Taxonomy and Plant Conservation. The programme provides fellows with the opportunity to collaborate with BSI scientists, access BSI's extensive herbarium and botanical collections, and work on projects of national importance. As a BSI Research Associate Fellow, researchers may be involved in various activities, such as taxonomic studies, field surveys, data analysis, publication of research findings, and participation in national and international conferences.
Eligibility Criteria
To be eligible for the BSI research associate fellowship programme, you must meet the following criteria:
The programme is open to all researchers working in the field of Plant Taxonomy/Systematics of any plant groups (both cryptogams and phanerogams), floristic related study leading to recent issues of climate change, research associated traditional knowledge of plants, documentation and understanding of plant resources of India.
Indian citizens with Ph.D. in Botany from a recognized University in India with research experience in Plant taxonomy/floristics, and in any relevant fields are eligible to apply this fellowship programme. Candidates with published research work in peerreviewed reputed journals with proven leadership qualities in the area of taxonomic/floristic research will be preferred.
The applicant should have an appropriate background and experience of research in the area of Plant Taxonomy/Systematics, Conservation and associated traditional knowledge or other related areas that are directly or indirectly involved.
The upper age limit for applicants is 35 years, relaxation in age for SC/ST/OBC/Women candidates applicable as per Government of India Norms.
How to Apply: BSI Research Associate Fellowship Programme
The process of application is OFFLINE and candidates can apply through the prescribed application form  given on official website.
Visit the BSI Official website
Check for the BSI Recruitment or Careers to get the information about Research Associate vacancies.
Download the Application Form for Research Associate present in official notification PDF.
Fill all the details in the application form along with required documents.
Send the application form along with documents to the Scientist In-charge, Technical Section, Botanical Survey of India, CGO Complex, 3rd MSO Building 5th Floor, Salt Lake City, Sector I, Kolkata – 700064
Benefits of the BSI Research Associate Fellowship Programme
A top quality trained manpower will be available to undertake need based research in emerging fields of Plant Taxonomy/Systematics/Climate Change.
Interaction among the Scientists working in different institutions of the country would
be promoted and enhanced. This would enable multi- and interdisciplinary approach to address complex issues in Plant taxonomy/Systematics.
Innovative and critical accounts of plant monographs/revisions, accounts for Flora of India and field explorations, species recovery and multiplication of threatened plants for conservation in the country would be developed based on knowledge/data emerging from the research work under the programme.
Financial Assistance

The tenure of the award is three years with no provision for further extension. The financial assistance available under the RA is as follows:
Fellowship @ Rs. 47,000/- for First year
@ Rs. 49,000/- for Second year
@ Rs. 54,000/- for Third year
Contingency @ Rs. 1,00,000/- per annum
Also Read :
sarthi fellowship for phd 2023|Chhatrapati Shahu Maharaj National Research Fellowship (CSMNRF-2023) for M.Phil/Ph.D: Program Overview
Fulbright-Nehru fellowship 2024-25: Apply Now
Fellowships for research in the life sciences
Join SACHIN'S BIOLOGY on Instagram or Facebook to receive timely updates and important notes about exams directly on your mobile device. Connect with Mr. Sachin Chavan, the founder of Sachin's Biology and author of biologywala.com, who holds an M.Sc., NET JRF (AIR 21), and GATE qualifications. With SACHIN'S BIOLOGY, you can have a direct conversation with a knowledgeable and experienced professional in the field of biology. Don't miss out on this opportunity to enhance your exam preparation!