Fulbright-Nehru fellowship 2024-25: Apply Now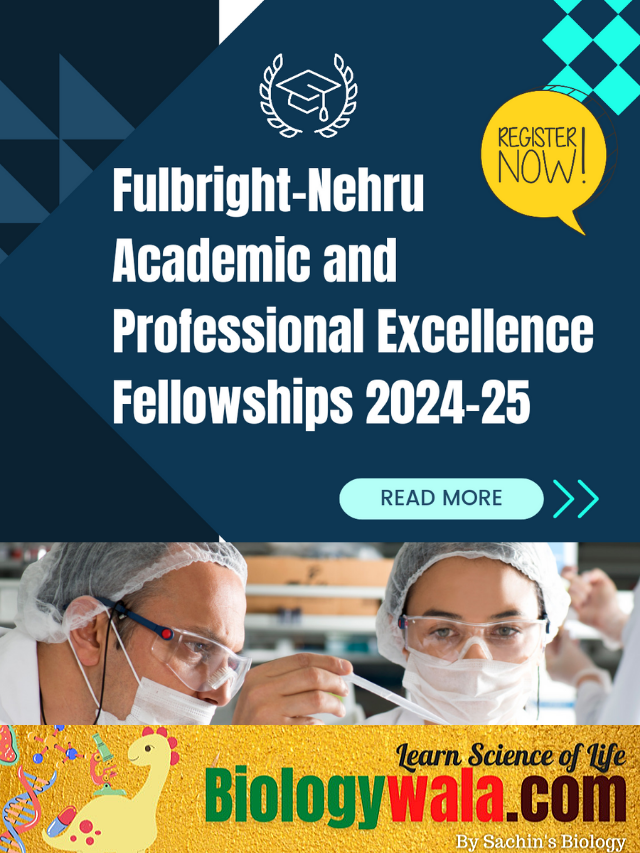 Apply for the prestigious Fulbright-Nehru Fellowship 2024 and study, research or teach in the USA. Fulbright-Nehru Fellowship is open to all. The Fulbright-Nehru Fellowship Program offers an opportunity to Indian scholars to pursue research, teaching or study in the USA in 2024.
Fulbright-Nehru Academic And Professional Excellence Fellowships
Fulbright scholarship for Indian students
Introduction:
The Fulbright-Nehru Academic and Professional Excellence Fellowships aim to provide Indian faculty, researchers, and professionals with the opportunity to teach, conduct research, or combine teaching and research at a U.S. institution. Applications are invited by USIEF for a Fulbright scholarship for Indian students. Interested and eligible candidates must check out the details below:
| | |
| --- | --- |
| Name of the organization | United States-India Education Foundation |
| Fellowship Programme | Fulbright-Nehru Academic And Professional Excellence Fellowships 2024-25 |
| Application deadline | July 17, 2023 |
| Registration link | https://apply.iie.org/fvsp2024/ |
| Programme begins | August/September 2024 |
Fulbright-Nehru Fellowship Program
Applications are invited in the following fields :
Agricultural Sciences: study of farming and agriculture
Anthropology: a study of human societies and cultures
Bioengineering: application of engineering to biological systems
Chemistry: the study of substances and their properties
Computer Science: study of computers and computational systems
Earth Sciences: study of the Earth's physical properties
Economics: the study of how societies allocate resources and create wealth
Education Policy and Planning: the study of policies and practices related to education
Energy Studies: the study of energy sources and consumption patterns
History: study of past events and their impact on society
Language/Literature/Linguistics: study of languages and literature
Materials Science: study of materials and their properties
Mathematical Sciences: the study of mathematical structures and patterns
Neurosciences: study of the nervous system and its functions
Performing Arts: the study of the performing arts
Physics: the study of the natural world and its properties
Political Science: study of politics and government
Psychology: the study of human behaviour and mental processes
Public Health: a study of population health and disease prevention
Public Policy: a study of government policies and their impact on society
Sociology: the study of social structures and relationships
Urban and Regional Planning: study of planning and design for cities and regions
Visual Arts: the study of visual arts
Women's and Gender Studies: study of gender and its impact on society.
Timeline and Placement Process:
| | |
| --- | --- |
| July 17, 2023 | Application deadline |
| September 2023 | Review of the applications |
| Early October 2023 | USIEF informs the applicants about the review outcome |
| Early November 2023 | Interviews of short-listed candidates |
| Mid-November 2023 | USIEF notifies principal and alternate nominees. |
| December 2023 | USIEF forwards applications of recommended candidates to the U.S. for J. William Fulbright Foreign Scholarship Board (FFSB) approval and placement |
| April 2024 | USIEF notifies the finalists about the FFSB approval |
| May/June 2024 | Pre-Departure Orientation |
| August/September 2024 | Fulbright-Nehru Fellowship Program begins |
Eligibility Criteria: Fulbright-Nehru Fellowship Program
In addition to General Prerequisites,
To apply for the fellowship program, certain requirements must be met
For faculty members or researchers:

Ph.D. degree
At least 5 years of experience in teaching, research, or relevant professional work

For professionals outside of academia:

Master's degree
At least 5 years of relevant experience

Applicants must submit a recent significant publication not exceeding 30 pages
The publication must be uploaded online as part of the application
If employed, applicants must follow the instructions for obtaining the employer's endorsement:

The employer must indicate leave will be granted for the fellowship period
Applicant must obtain endorsement from the appropriate administrative authority on Letter of Support from Home Institution
Application Process: Fulbright-Nehru fellowship 2024
The Application Deadline is July 17, 2023.
Selection Process: Fulbright scholarship for Indian students
Experts will review all eligible applications. Applicants recommended by the experts will be required to appear for an interview with the USIEF National Selection Committee.
Selection panels will generally use the following criteria to evaluate applications:
Academic credentials and professional ability
The merit of the proposed Fulbright project
Communication skills
Commitment to community or national service
Need to conduct research in the U.S.
Outcomes, Potential Impact and Benefits
Motivation, Seriousness of Purpose, Maturity, Leadership, Cultural Adaptability
Ability to contribute as a cultural ambassador beyond his/her specific field of study
Grant Benefits Of The Fulbright-Nehru Fellowship 2024 :
The fellowships provide
J-1 visa support
Monthly stipend
Accident and Sickness Program for Exchanges per U.S. Government Guidelines
Round-trip economy class air travel
Modest settling-in allowance
Professional allowance.
Important :
You can apply for only ONE Fulbright-Nehru fellowship category during a competition cycle.

Candidates cannot apply for Fulbright-Nehru and Fulbright-Kalam grants in the same academic year.

Plagiarism in the application will lead to disqualification.

Unless otherwise specified, Fulbright-Nehru applications are to be submitted online.

Applications received after the deadline will NOT be considered.

Extensions and Transfer of visa sponsorship will not be permitted.

Prospective Fulbright participants should be aware that public health conditions, availability of consular services and travel, as well as U.S. institutional operating status and policies may affect their ability to travel to the U.S. and participate in academic programs.
These fellowships are for four to nine months
.
For any queries contact:
To Know more about the fellowship:
Also Read :
ISRO Recruitment 2023: For B.Sc/M.Sc/B.E/ B.Tech/M.Tech Graduates
sarthi fellowship for phd 2023|Chhatrapati Shahu Maharaj National Research Fellowship (CSMNRF-2023) for M.Phil/Ph.D: Program Overview
Fellowships for research in the life sciences
Join SACHIN'S BIOLOGY on Instagram or Facebook to receive timely updates and important notes about exams directly on your mobile device. Connect with Mr. Sachin Chavan, the founder of Sachin's Biology and author of biologywala.com, who holds an M.Sc., NET JRF (AIR 21), and GATE qualifications. With SACHIN'S BIOLOGY, you can have a direct conversation with a knowledgeable and experienced professional in the field of biology. Don't miss out on this opportunity to enhance your exam preparation!