IISER Kolkata Summer Student Research Programme 2023: Apply Now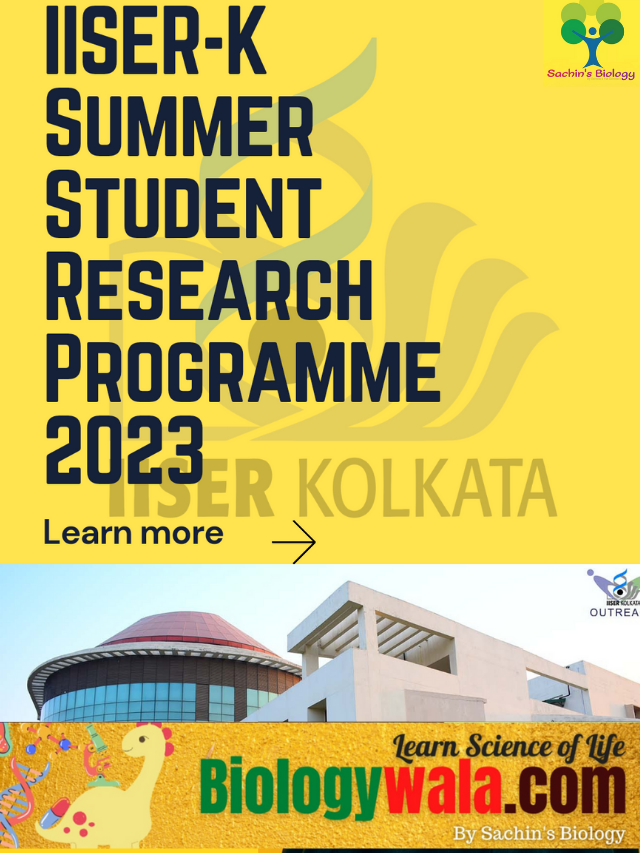 Learn about the IISER Kolkata Summer Student Research Programme 2023 and how to apply for this exciting opportunity.
Introduction:
Indian Institutes of Science Education and Research (IISER) Kolkata is a premier institute of higher education and research in the field of science and technology. IISER Kolkata offers undergraduate, postgraduate, and doctoral programs in various branches of science and it is considered to be one of the leading institutes in India in terms of research output.
The summer Student Research Programme is offered by IISER Kolkata to graduate and undergraduate students (B.Sc., M.Sc., B.S., M.S., B.Tech. , B.E.) of Institutions or Universities across the world. This program provides a unique opportunity for students to gain exposure to the research culture at IISER and interact with faculty members and researchers in their fields. The experience gained through the IISER Kolkata Summer Research can be valuable for students interested in pursuing careers in scientific research or furthering their academic studies. If you are interested to apply for this programme then this blog post is a helpful guide that will walk you through the application process step-by-step. 
IISER Kolkata Summer Student Research Programme 2023 Dates:
| | |
| --- | --- |
| Name of the Institution | Indian Institutes of Science Education and Research , Kolkata |
| Name of the programme | IISER-K Summer Student Research Programme 2023 |
| Starting date of application | 17th April 2023 |
| Last date of application | 24th March 2023 |
| Publication of list of selected candidates | 17th April, 2023 |
| Duration of the programme | 16th May – 15th July, 2023 |
| Mode of application | Online |
| Mode of programme conduction | Online / Offline (If permitted by project supervisor) |
| Online application link | https://www.iiserkol.ac.in/~summer.research/register2020.php |
| Official website | https://www.iiserkol.ac.in/web/en/#gsc.tab=0 |
iiser Kolkata summer internship
Important Points To Be Considered:
(a) IISER Kolkata will run an online IISER summer internship in 2023.
(b) Students may also work in an offline mode if permitted by the project supervisor provided they arrange their accommodation.
(c) IISER Kolkata hostel accommodation will not be available for offline summer students.
(d) IISER Kolkata will not provide any fellowship for the Summer Research Programme 2023.
(e) Any student who decides to join the project should agree to devote at least 5 to 6 hours a day to the project work for 60 days.
(f) Upon completion of the internship, the student needs to submit the project report to the supervisor and if the supervisor approves the summer project report, then the student will be provided a certificate.
(g) The certificate will be sent via email.
Candidates can select a maximum of two faculty members in order of their preference in the application form.
IISER summer internship 2023 application form process:
Step 1- Registration for IISER-K Summer Research Program 2023
Go through the Online Application link for the registration of the programme.
Fill in all the details given like full name, date of birth, and Email and submit.
After submitting, the candidate will get a notification mail along with an application form link.
Step 2 – Application for summer research programme 2023
1. Go through the link provided via mail for filling out the application form.
2. Fill in all the details given in the application form like personal details, contact details, academic details, fellowship details, mode of internship at IISER Kolkata, selection and CV and apply.
3. Kindly note that submit button will work only if,
All fields are filled
Passport size picture in JPEG format ( Maximum file size 100kb)
CV in pdf format
Mandatory to choose at least one faculty for the programme
Official email :
For any queries on the submission of online applications for the iiser kolkata summer internship please write to
Also Read :
Chhatrapati Shahu Maharaj National Research Fellowship (CSMNRF-2023) for M.Phil/Ph.D: Program Overview
Apply for CUET (PG) – 2023: A Gateway to Your Dream Postgraduate Programme
40, 000 Rs BAYERS FELLOWSHIP PROGRAM – MEDHA 2022-23 for Ph. D.
Fellowships for research in the life sciences
Join SACHIN'S BIOLOGY on Instagram or Facebook to receive timely updates and important notes about exams directly on your mobile device. Connect with Mr. Sachin Chavan, the founder of Sachin's Biology and author of biologywala.com, who holds an M.Sc., NET JRF (AIR 21), and GATE qualifications. With SACHIN'S BIOLOGY, you can have a direct conversation with a knowledgeable and experienced professional in the field of biology. Don't miss out on this opportunity to enhance your exam preparation!