CSIR NET 2022 Dec & 2023 June exam merged!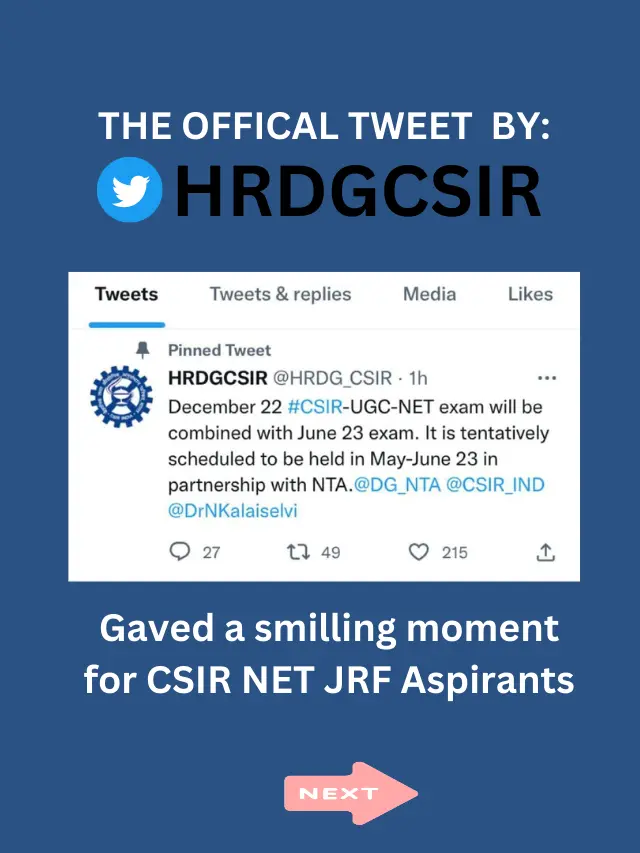 CSIR NET 2022 Dec & 2023 June exams merged
In a recent update, the Council of Scientific and Industrial Research (CSIR) has announced that the CCSIR NET 2022 Dec & 2023 June exam sessions have been merged and will now be held in May-June 2023. The exam is scheduled to be held in the month of May-June 2023. CSIR NET 2022 Dec & 2023 June exams merged, to be held in May-June 2023. The official notification on the official website very soon.
According to a tweet by the official CSIR NET account, the official notification for the CSIR NET Junior Research Fellowship (JRF) exam will be updated on the official website. The tweet also urged students to stay tuned for further updates and to regularly check the official website for more information.
The decision to merge the two sessions has been taken in view of the ongoing COVID-19 pandemic and the challenges it has posed for students in terms of preparation and safety. This move will not only provide students with more time to prepare for the exam but also ensure the safety of all students and staff involved.
The CSIR NET JRF exam is a highly competitive exam that is conducted to select candidates for the Junior Research Fellowship program and for determining their eligibility for the award of the Lecturer-ship (LS) in Indian universities and colleges.
The CSIR NET JRF exam is an important milestone for many students in their careers, and the recent announcement of the exam schedule is likely to bring a sense of relief to those who have been eagerly awaiting the release of the dates.
The official notification will be updated soon on the Official website of VSIR NET JRF:
You also like:
This is it for today!!! If you think this csir net life science online mock test has helped you or have any suggestions or requirements related to biology questions, comment below. Prepare smart and hard for the exam make your family and yourself proud, because NO ONE GONE DO IT FOR YOU !!! See you in the next article.
Try it too :
If you want important notes and updates about exams on your mobile then you can join SACHIN'S BIOLOGY on Instagram or Facebook and can directly talk to the founder of Sachin's Biology and Author of biologywala.com Mr Sachin Chavan M.Sc. NET JRF (AIR 21) GATE, MH-SET!